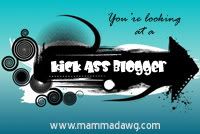 Since I'm running for Prez, it's great to have awards. Another of my favorite bloggers has given me this fantastic ass-kicking award. I am in awe of
FranIAm
, who is about as thoughtful as you can get. So but anyway, blahblahblah Rules. Here they are:
1) Choose five other bloggers that you feel are "Kick Ass Bloggers" (This one is tough, because most of the bloggers I love have already gotten this award.)
2) Let them know that they have received an award.
3) Link back to both the person who awarded you and also to
MammaDawg
.
4) Visit the
Kick Ass Blogger Club HQ
to sign Mr. Linky and leave a comment.
To wit:
1)
Utah Savage
has the most colorful way of expression - part Southern Belle, part take-no-prisoners madwoman, part crazy-like-a-fox, always compelling. I never know what she's going to say, but I really like reading it.
2) I offered to double the
Unconventional Conventionist's
salary to join my campaign. I think I have to
stoop
honor him instead with
bribes
an award.
3) Fran from
Ramblings
is a real kick-ass blogger. Plus, we're in the same industry. Plus, she's a great read.
4)
Dusty (It's my right to be left of center
is my goddess. She knows why.
She fixes my links at The Sirens Chronicles
She is a strong, powerful voice, she is fearless.
5)
Naj
and I don't always see eye-to-eye. But she is a voice for peace, and I applaud her courage.
I could actually award this to everyone on my blogroll, to tell the truth. Some great writers out there. I love you all!