It seems that while I was at a conference, the wonderful
Okjimm
bestowed me with this gorgeous award: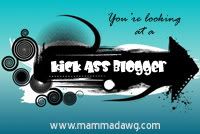 As always, there are rules. I'm running for Prezilnet, so I have to follow some semblance of rules. Here they are:
1) Choose five other bloggers that you feel are "Kick Ass Bloggers" (This one is tough, because most of the bloggers I love have already gotten this award.)
2) Let them know that they have received an award.
3) Link back to both the person who awarded you and also to
MammaDawg
.
4) Visit the
Kick Ass Blogger Club HQ
to sign Mr. Linky and leave a comment.
So, who to pick, who to pick:
1)
Mathman, of When Will I Use This?
is indeed a teacher, and deserving of this award. His blog is eclectic, and he is a real, true teacher.
2)
DK Raed, Redheaded Wisdom
is a beautiful mix of humor, politics, and personal. I consider her a friend, though we've never met.
3)
Enigma4Ever, of Watergate Summer
really is a hope-mongerer - her blog is gentle, and she's a loving soul.
4) I really love
Spartacus, of My Saturday Evening Post
. He's another mix of personal and political, but the way he talks about his kids is what does it for me. He is a real father.
5)
Dianne, of Forks Off The Moment
is all about the creative life. Her images are amazing. She's got it going on.
There you have it. I would have given out tons more, but I am trying to spread the love.