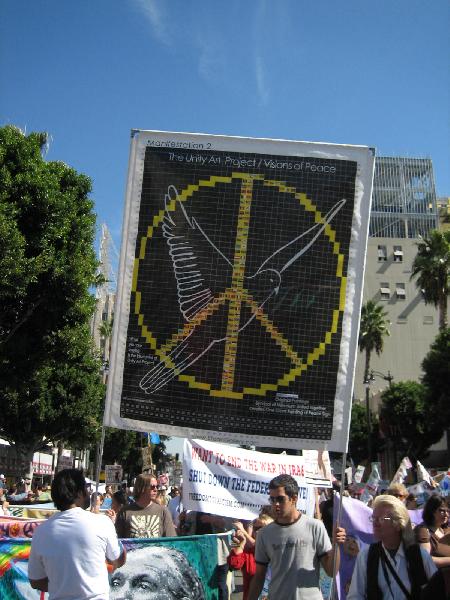 I confess, we left before the end of the march. It was slated to begin at noon, and it started a little after 1 PM. Alicia had a gig in Ojai Saturday night, and I had to catch up with some other friends at about 4 PM, so we only marched for about half the route. Which means we didn't get to the CNN building, where there were about 5000 people gathered to listen to Cindy Sheehan, Ron Kovic, Arun Ghandi, and several others. We were not the only ones to leave early, but I still feel a tiny bit guilty. As part of the Code Pink women, we gathered signatures for the
Give Peace a Chance
petition, which you can also sign by clicking on the link.
It was an interesting mix. And it was a reminder to me about how scattered the left and liberal factions are. The focus of this march and rally was to get us out of Iraq now, to show clearly how this administration lied, lies and lies. But there were the militant Vegetarians who, megaphone in hand, told people that if you eat meat, you are supporting the war in Iraq. "Ghandi was a vegetarian" they said. Well, so was Hitler. Get your own damn march, and focus on what's important.
And there were the anti-Israel people. Posters said "US/Israel out of the Middle East." I tried to avoid standing anywhere near them. The current government of Israel is a pawn to Bushco; no doubt. But I no more want to see the destruction of Israel than I do the destruction of the USA. I do want to see our current administration impeached and imprisoned; and I want to see the same in Israel. But this march was about Iraq, about OUR nation's crimes.
Then there were the Topanga Canyon people. One guy was really cute, and we just chatted away over the
Loose Change
DVDs, how bizarre was that? But when the march actually began, their guy in charge kept telling our little group that we weren't marching correctly, we weren't in the right order, or something like that. So strange.
I got a bumper sticker for my car: War is over, if you want it. Peace.